A fan once told Marianne de Pierres that she was getting a tattoo of her book title because it was what turned her onto reading.
It's not surprising that she engenders such a reaction from a large loyal fanbase – the first time I met her was at a convention where she was happily signing books, gossiping and offering advice to them.
Approachable is a good word for it especially since she readily agreed to be interviewed for Australian Women Writers and we have been teasing you about this interview for months.
She's a long time supporter of all things AWW, often lurking in the background:
"I watch everyone's blogs avidly and try and pick up new writers to read. I'm a big fan of the AWW Challenge, cheering from the sidelines."
But where to begin?
Perhaps with the enticing news that her next novel Peacemaker is now out and with the information that she straddles two genres: speculative fiction, of which Peacemaker is the latest offering, and crime fiction.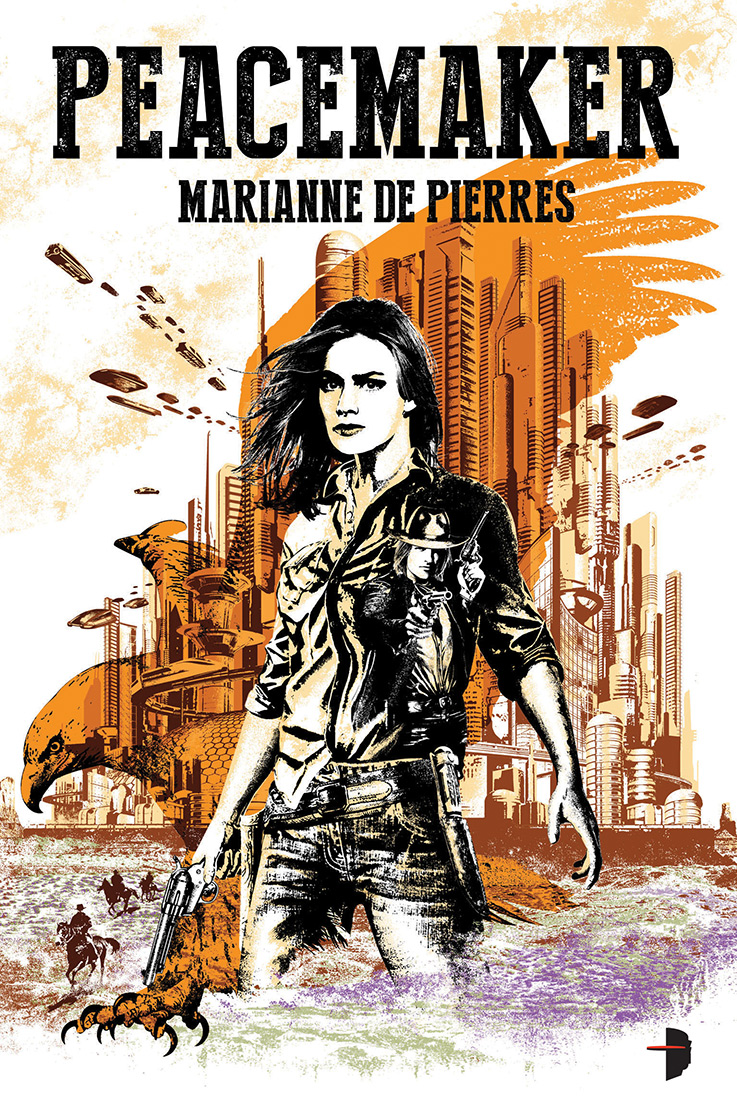 She is also working on Dealbreaker which will be Peacemaker's sequel but Tara Sharp fans do not fret, there is more crime around the corner.
"I also have two crime novels that I'm gently pursuing, including Tara Sharp 4 and a new concept about a private detective who specialises in Art Theft." she told me via email from over on the East Coast.
And two genres aren't enough as she starts diving into the world of Young Adult fiction as well:
"Then there's some other bits and pieces, like my YA novel Emo Trader and a SF near future thriller entitled Pharmakon. The latter are all in various stages of development."
I asked if she was able to choose between the genres – if there was such a thing as a favourite. Her reply was interesting:
"My perfect genre is science fiction crime. I'm, at heart, a futurist, but I love mysteries and puzzles in stories."
The reason it is interesting is because that's pretty much what she does try to do when writing her speculative fiction works – the plots always have a hint of mystery, something to puzzle out and often quite a few characters who tend to kick various parts of other people's anatomy and dabble in nomenclature. And when you pick up her crime fiction, Tara Sharp makes you laugh.
Marianne, herself, makes you laugh as well but she's quick to get to the point about the important things. And the writing, anything to do with the writing is certainly one of those important things:
"Writing is very central to my inner peace and happiness," she said, honestly. As a writer, I nodded very sagely each time I read this.
"It's the meditation I need to get through life. It gets me excited but it also calms me down, if that makes any sense at all!"
It's important, integral, all consuming perhaps and overwhelming and cathartic all at the same time perhaps but it also did take her quite some time before she put pen to paper or fingers to keyboard with any intention of serious storytelling.
"I never considered it as a career until I was about mid-thirties. Even then, it was more of a 'let's make a start and see where it takes me', rather than a well-constructed plan."
And before her thirties? Well, life had intervened and there was also a lot of growing up and learning to be done. Again the honesty came through:
"I spent my childhood and adolescence writing bits and pieces, inspired by the books that I loved, but it took me until my thirties to develop any self-discipline about it."
And there were children as well to consider:
"At that point in my life, I was still very caught up in child rearing and writing time was a precious commodity." she replied. "Maturity brings a lot to the writing table."
It's not just the sort of maturity where it brings depth to your characters and a sense of realism to your plot that she was referring to here. There was the maturity of realising just what needed to be done to get a book out. Including gluing yourself to the desk chair every day.
Her best advice came from Bill Congreve in the late nineties when she took it to heart:
"Finish what you start. Best advice I ever got, thanks, Bill! Sounds simple but you'd be amazed by how many writers have files full of partials, and very few completed manuscripts. No one publishes a story that isn't finished!"
It's now part of her steady routine. No magic, according to her, just a formula. And consistency:
"A little every day except Sunday. Sometimes only a paragraph, sometimes a thousand words. I'm not one to write huge amounts in a day, but I do write most days."

I asked how she puts her crimes together. To me, this is a feat that is logically impressive – to keep track of all possibilities within a puzzle and to weave the solution, the crime and the clues all in together.
Her humour came through again. Marianne's weapon of choice is a notebook and doodling – one that I have an urge to now look at, as I am sure many fans would. The doodles in particular sound intriguing. Once she has thought up the idea of course.
"I might start writing notes in a large note book. These will be basic dot points and are sometimes  accompanied by squiggly diagrams. That's my plot resource! From then on, it's just straight into the writing process."
I am also keen to know what influences her. She admitted, as most any writer would, to a love of reading and started talking about why she thinks AWW is so important and who the first female Australian author she can remember reading was:
"Probably Elizabeth Jolley back when I was at uni in the late 70's, but even then most of the writers on my course lists were male. The next time a female author stood out to me was Sarah Douglass back in the early nineties. Sad, isn't it? All those years reading almost entirely male Australian authors."
But there have been female influences, right? She listed them out, both male and female, for us:
Lilith's Brood – Octavia Butler
Ash – Mary Gentle
Divine Endurance – Gwyneth Jones
Beggars in Spain – Nancy Kress
CrashCourse, ClipJoint – Wilhelmina Baird
Guns with Occasional Music – Jonathon Lethem
Neuromancer – William Gibson
Chaga – Ian MacDonald
Vermillion Sands – J G Ballard
Twilight Beach – Terry Dowling
A Separate Reality – Carlos Castaneda
Rama Revealed – A. C. Clarke
She does read other female Australian writers and she was keen to recommend names, though she refused to play favourites:
"I'd be lynched by all my friends." She joked. "But some Aussie women writers whose work I'm quite partial to and never see enough of due to their infrequent publishing are: Maxine McArthur, Lucy Sussex and Leanne Frahm. I want more publishers to grab their work and wave it around!"
Which led to the question of being a female author in Australia and being supported by the industry.
"Publishing Science Fiction in Australia is hard full stop." She explained. "The reading audience for it is small and the publishing industry doesn't really support it currently. I've had to get inventive in the ways I manage this problem – but that's for another discussion!"
It's slightly different when it comes to crime fiction though.
"As a female crime writer, Sisters in Crime has been a godsend. Without them I think I'd be very disillusioned with crime publishing. They have made great progress in promoting the voice of Australian women writers."
But what about the next generation of Australian female authors? What advice does she have for them? What heffalump traps should they avoid?
She was quite direct in her response:
"Head down, keep writing. NO. SUBSTITUTE. FOR. IT."
The authoritative tone makes you sure that there is writing that should be getting done. "Other than the Internet, the worst trap is being overly critical of your first draft. That's what leads to writers block and stagnation. Let yourself off the hook when you're getting the story down."
And if you do it right, you might find yourself with fans who get tattoos inspired by your work. As Marianne explained to me, it's much more common than you think. But then again, she also had someone name their firstborn after her.
Marianne's latest book Peacemaker is out right now and you can find out more at her website.
About me

Marisa Wikramanayake is a freelance journalist, writer and editor. She published her first book at 17, has lived on three different continents, been in ground zero of a bomb blast twice and is currently hibernating in Perth, Australia. She's also been freaked out by the Scientologists, helped run a national publishing conference for the Society of Editors (WA) and currently sits on the WA Media Alliance committee. She is dangerous when bored, having terrorised educational institutions to finish an Honours thesis on Archaeology and a Masters thesis on Neuroscience and Science Communication. She pens book reviews for The West and the ABR, science news and then writes and edits novels in the spare time that's left over after painting, dancing, gaming and mentoring. She contributes her two cents as non-fiction editor at Australian Women Writers and lends her geek goddess expertise to the Guys Read Gals project. Feel free to badger her at her blog at  marisa.com.au, onFacebook or tweet at her at @mwikramanayake