Hi everybody, I can't believe it is April, another month gone and another lot of books read. 15 books were reviewed during March which is great, and some new titles were added to the list to explore. I was on nightshift again earlier in the month and got plenty of reading done. I started Terra Nullius by Claire G Coleman, but I haven't gotten far as of yet, but Anna did manage to read it and highly recommends it. I will take it with me to work again next week.
I did get one book finished that just sneaks into this genre: The Implausible Story of Olive Far Far Away by Tonya Alexandra. It's about a girl who has been cursed with invisibility by a gypsy and can only be seen by her true love. I thoroughly enjoyed this book and found it lots of fun so check out my thoughts. It is the second in the series, but I had no trouble picking up the story without having read the first.
Tsana introduces a new book, Crossroads of Canopy by Thoraiya Dyer, an epic fantasy novel set in a world built on trees in a mighty and magical forest; book 1 in A Titans Forest series. She highly recommends it to all fans of fantasy.
Elizabeth has reviewed book 2 in the series Echoes of Understorey by Thoraiya Dyer. She says, "overall, I found Echoes of Understorey an excellent installment in what continues to prove an innovative fantasy series".
Stone Circle by Kate Murdoch was reviewed by Elizabeth who says, "Kate Murdoch paints a sumptuous Renaissance world – so rich that her fantasy elements seem to blend with the contemporary foods, fashion and social practices of the day".
A.L Tait's new book, The Book of Answers: The Aitban Cipher book 2 was reviewed by Ashleigh from The Book Muse. An orphan in exile. A band of rebel girls. And a prince whose throne has been stolen. Come on a journey full of danger, intrigue, adventure and incredible secrets. Ashleigh says, "Much like the first book, I loved that the girls – Gwyn, Merry, and Scarlett in particular, were the heroes, and knew their own minds – they didn't do what those around them expected them to do, they did what they wanted."  She recommends it as "a great read for children aged ten and older, and adults if they like these sorts of stories, and it is a nice quick read as well, which is all down to the well-written pacing of the story". I have read and enjoyed A.L Tait's Mapmakers series, so will definitely be giving this series a go.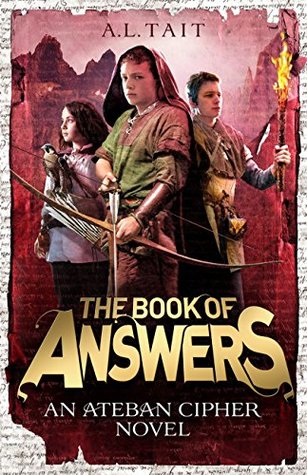 Georgina reviewed Sl
ights by Kaaron Warren. "Slights was my first foray into Kaaron Warren's work, and what a deliciously disturbing ride I had. Horror is a rare genre choice for me, as I like to sleep at night. I'm glad I made an exception".
Other books that were reviewed in march were Ice Wolves by Amie Kaufman and Across the Nightingale Floor by Lian Hearn, Walking in Winter by Deborah Biancotti and The Enlightenment of the Greengage Tree by Shokoofeh Aza. Each were reviewed once and Nevermoor: The Trials of  Morrigan Crow got two more reviews from Brona's Books and Tien @ Tien's Blurb – this book is still a favourite of mine.
So until next month, I wish you happy reading. Next month's round-up will be slightly late due the the fact I'm off on a real life adventure to Morocco. I have 2 weeks of nightshift before I go, so hopefully I get to read some great books. I'm also determined to finish Terra Nullius by the time I write the next round-up.