Hello everyone, for those who don't know me I usually write the Speculative Fiction Round-up but have put my hand up to fill in here as well this month. General fiction seems to cover a lot of categories and genres as well as just 'general', so lets see what you were all reading during November.
There were 34 books reviewed in this category this month which is so many more than I am used to dealing with in Spec fiction so as my round-up readers know, I have trouble picking only a few to feature so whilst I won't mention all 34, this may be a fairly long round-up. I'll try and pick ones that I haven't seen featured too much.
Firstly I'll start with one I read, a new release out this month by Penelope Janu –  On The Same Page which was the Winner of the 2017 XO Romance Prize. My review states "This was such a different read.
What a quirky character Miles/Emma was, she kept me guessing all the time what she would say and do next. This was fun and lighthearted with plenty of humour throughout.  I loved the cast of supporting characters, especially Jack and Pippy, they were fabulously entertaining and supportive friends to Miles. A highly enjoyable read "
The next book is one that has captured my interest over the last month or so and is on my huge TBR pile, The Helpline by Katherine Collette and was
reviewed by Marianne @Cloggie Downunder who says "Collette includes plenty of laugh-out-loud humour, but also a few poignant moments. What a wonderfully diverse support cast Collette gives Germaine: a cheating sudoku champion, a manipulative mayor, a grumpy club president, a CWA-prize-winning cook; an activist mother; a very smart six-year-old boy; a creative helpline operator; a manager with a conscience; a persistently friendly neighbour; and a casually clad IT expert. Funny and heart-warming, this is a brilliant debut novel and Collette's further works will be eagerly anticipated."
Amanda @Mrs B's Book Reviews gives us our next book The Little Bookshop on the Seine by Rebecca Raisin we both met Rebecca at the West Coast Fiction Festival last month and I have this on it's way to me in the mail. Mrs B says "There were some wonderful resounding themes that I was able to draw from The Little Bookshop on the Seine. From self confidence, friendship, love, travel and exploration,
to self belief. All of these themes work well to ensure the narrative is full, engaging, surprising and full of unexpected possibilities. I  am convinced that Sarah and I are kindred spirits, I took an immediate liking to Sarah and I found so much connection between our worlds, despite our varied life circumstances! I enjoyed my time with Sarah and her acquaintances so very much. I must admit I didn't want to leave the pages of this novel, even though I was grinning from ear to ear with the ending Raisin issued. Rebecca Raisin has dazzled me with her passionate story of Paris, books and love. The Little Bookshop on the Seine is solely deserving of a five star rating. I'm off to seek out the rest of Rebecca Raisin's books and I assure you, I will be at the head of the line for her next new release!" If that doesn't make you want to read it then take a look at Mrs B's whole review.
Mrs B's Book Reviews also reviewed Cedar Valley by Holly Crosby Inspired by one of Australia's most profound and unsolved case mysteries, 'The Somerton Man'. Mrs B says "Small town rural fiction doused with plenty of mystery and intrigue are the best words I can use
to describe Cedar Valley. This is an authentic tale, filled with characters that we know we would easily bump in to down the street, or share a drink with at the local pub. Connected to this is the wonderful sense of nostalgia that I gained from the time period this novel is set, the early 1990s. Throsby's depiction of this time in our not too distant past was spot on." she also says "Sometimes it is hard to imagine how a seemingly inconsequential death of an unknown person can have such as ripple effect on a small town. Cedar Valley shows the care, concern, support, intrigue and effective nature of communities, such as the endearing one represented on the pages of this novel. Throsby has extended herself and has provided readers with another profound small town Australian mystery novel." This is also on my TBR pile.
Next up is a new one to me Jack and Kate by Diane Blacklock was another book reviewed by Marianne @Cloggie Downunder she
writes "Blacklock's protagonists, for all their (very human) flaws, are appealing: characters with integrity and kindness who grow and mature. For the reader, Jack and Kate are genuine and easy to invest in: the returns being plenty of laughter but also tears, and ultimately a charming romance. These two claim the reader's hope and care, but also occasionally incite the desire to grab them by the shoulders, shake them, and tell them to open their eyes, to really talk to each other, to be honest about their feelings. Once again, Blacklock does not disappoint, and whatever she publishes next will be eagerly anticipated." 
Carolyn read and reviewed Second Sight by Aoife Clifford she says "Aoife Clifford has constructed a well written
and carefully plotted mystery. She has captured the feeling of a small Australian town and the close relationships of its people that make it hard to keep secrets. Through Grace's memories of the past and the current day, there are plenty of interesting and complex characters, from Janey's friends Amy, Luke and Tony and her estranged sister Tess and husband policeman Gavin to her father Mick, now in a nursing home and Janey Bayless, the local publican running for mayor. Eliza's second look at the events of Grace's disappearance will give her a different perspective of what actually happened all that time ago."
An older novel now from 2011 The Donor by Helen Fitzgerald was read and reviewed by Kim @Reading Matters who writes
"It's dark and edgy and asks the question that all her novels seem to ask: if you were thrust into this moral dilemma, what would you do? As ever with Fitzgerald, nothing is straightforward — she's difficult to outguess, which makes her stories unpredictable and exciting. But if you suspend your critical faculties and just go with the flow, the book is an engaging — and highly addictive — read.  Much of the plot, along with its vast array of vividly colourful characters, including Preston the 17-year-old private detective that Will hires to track down his ex-wife, are out-and-out bonkers. It's laugh-out-loud funny in places, but it has its serious moments too, not least the way in which it looks at the moral and ethical issues surrounding kidney disease, organ donation and the clashes between the middle classes and the underclass. It's a great book to get stuck into if you are looking for something a little bit shocking and darkly funny." 
There were two reviews for Nine Perfect Strangers by Liane Moriarty this month both had differing opinions and from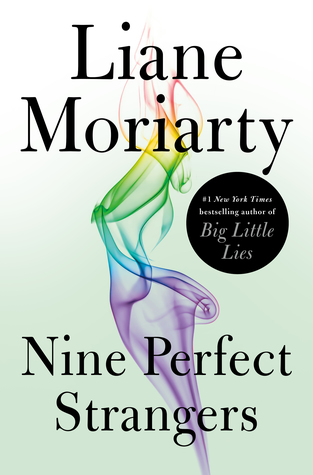 what I've been reading around the tracks opinions are very varied on this book. Jenny says "This is an intriguing novel by one of my absolute favourite authors. Interesting reading other reviews with many stating it was pure fun the whole way through. I disagree, yes it was fun but it had particularly poignant moments, one chapter in particular absolutely blew me away with its intensity and I took a while to ponder on it, re-read it and then move forward. Liane, you have given us much to think about, to laugh about and to cry about – but I am still not sure that it absolutely ticks every box for me so I can't give it five stars." While Sanch @Sanch Writes wasn't quite as captivated.
Lastly I will end with one I've had out of the library for over a month, well more like 2 months and I just need to find time
to read it, The Wolf Hour by Sara Myles was read and reviewed by Nicole who says it is not her normal genre to read. She says "The Wolf Hour turned out to be a well researched, intriguing look at contemporary life in Africa. Africa itself became a character of the story. Sarah doesn't hold back as she describes the beauty of the land and contrasts it with the harsh reality of daily life with political strife. The authenticity is brought to life through the eyes of thirty year old Tessa Lowell. I felt that Sarah barely touched on exploring child soldiers as the blurb stated. This was more about Sarah's experiences as a white woman in a foreign country. Tessa's brother, Stephen, on the other hand, knows the heart of Africa as he lives in Cape Town. While it was clear from the very start that Stephen was living a dangerous life, I was just as shocked as his family when Sarah reveals his true colours.  Through Stephen's path in life, Sarah skillfully draw out the darkness and danger that hides in all of us."
I always like to end my round-up's with a children's book, so I'll continue that on here too. Anna reviewed a delightful book Hop Up! Wriggle Over! by Elizabeth Honey,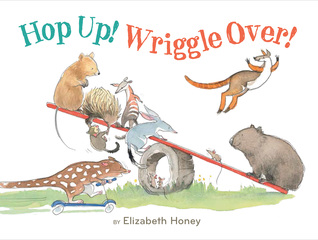 she says "This is a lovely book. With minimal text and delightful illustrations, it shows a day in the life of a family of diverse Australian animals. The illustrations carry the story, and are filled with action and detail. I read this with my toddler at the library, but I think we'll be adding it to our collection at home."
Well I hope there is something in this round-up for everyone, I know I've stumbled across a few I've never heard of, thank you to everyone who added their reviews to the AWW database. Well there's less than 3 weeks to go until Christmas, so happy reading during December and I hope Santa brings you some great books for you to share with us in the new year.
Claire Louisa xx