Welcome to the Australian Women Writers Challenge diversity round up for February and March 2021.
In the past two months we've had 77 reviews of 57 books featuring themes of diversity and/or by Australian women writers from a diverse background. That's huge! We haven't had this many since the June/July round up in 2020. Keep it up, you're all awesome.
I've listed a few stand outs below, but if you'd like to see the full list, scroll down for the instructions under "Reading for diversity".
Growing Up Disabled in Australia, edited by Carly Findlay
I couldn't not kick this round up off without mentioning Growing Up Disabled in Australia, edited by Carly Findlay, the new book in the 'Growing Up' series from Black Inc. It's a brilliant collection of short memoirs that gives incredible – and often heart-breaking – insights into what it's like to grow up with a disability. I've yet to write my own review because I'm still processing it. Stay tuned.
Cass Moriarty read and reviewed it this month, giving it 5 stars and writing:
I learnt so much from this book, which explores the notion that disabled people often don't grow up thinking themselves so – that disability is a social construct – 'the social model sees disability as the result of the interaction between people living with impairments and an environment filled with physical, attitudinal, communication and social barriers … [that] therefore carries the implication that [those environments] must change to enable people living with impairments to participate in society on an equal basis with others.'
A Home Like Ours, by Fiona Lowe
Bestselling author Fiona Lowe's timely novel, A Home Like Ours, explores prejudice and privilege and garnered 4 reviews this month!
Helen Sibbritt explains the novel succinctly in her review:
this is the story of women and the struggle they have in their day to lives not only with family but homelessness, the upheaval of moving from war torn countries to start a new life and how a community garden help them come together, learn from each other, open up to each other and fight for justice and happiness.
Cloggie Downunder gave it 5 stars, calling it, "A thought-provoking and heart-warming read."
Jennifer-Cameron Smith loved the novel:
Once again, Ms Lowe creates three-dimensional characters who tackle some difficult contemporary issues. And, in doing so, she invites the reader to think about their own attitudes and responses.
Shelleyrae @ Book'd Out didn't mind the marathon read one bit:
I barely noticed that A Home Like Ours was almost 600 pages long, engrossed in the well-paced story I finished it in a day. This is an wonderful read that encourages empathy, compassion and community.
Middle grade: The World Between Blinks by Amie Kaufman and Ryan Graudin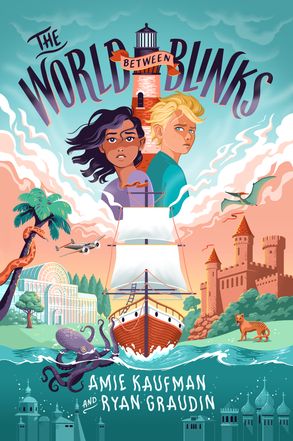 The World Between Blinks is a fun mix of history and fantasy which takes kids around the world. Set on a fascinating premise – what if there are other parallel worlds you can only see between blinks? – this is co-authored by Amie Kaufman, one of Australia's most prolific fantasy writers in recent years.
Along with being engaging and great fun, Denise Newton Writes found:
An added bonus is the way in which so many cross cultural references are included, including American, Australian, Bolivian.
As Ashleigh Meikle explains in her review:
Marisol's first language is Spanish – so Spanish words and phrases are woven throughout the novel giving the character authenticity and opening the reader up to new ways of seeing and understanding the world around them.
Nalini at Dark Matter Zine found it a fun children's story, giving it 4 stars, but thought the use of Spanish was a little forced and warns:
Facts are scattered throughout the story, enabling its use as a teaching tool. Quite often melding of fact and fiction is a cause for concern regarding teaching.
Middle grade: Cuckoo's Flight, by Wendy Orr
Wendy Orr has done it again with her new novel, Cuckoo's Flight, another wonderfully engaging historical middle fiction adventure. The main character, Clio, struggles with an acquired disability.
Ashleigh Meikle at The Book Muse applauds the representation of Clio:
Seeing a disabled character front and centre – where you can see how her disability impacts her, but where she is also allowed to just be is a very powerful thing for readers when it comes to representation. It shows the ease with which it can be done, and what it can mean for a story. In this case, it made it powerful and fresh.
Nalini Haynes at Dark Matter Zine recommends it to all ages as fabulous escapism:
Don't dismiss this as "just a children's book"! I highly recommend Cuckoo's Flight to you regardless of age. However, I also recommend this book especially to children, to people who love historical fiction, to readers who need a palate-cleanser from harrowing reads and an escape from the Terrible Twenties.
The Good Sister, by Sally Hepworth
Sally Hepworth's latest novel split opinions from our reviewers, with some raving about it and others a little lukewarm. It just goes to show that book reviewing is always subjective!
A domestic noir featuring twin sisters, one of whom has sensory difficulties and anxiety, Brenda Telford (a long-time fan of Hepworth's) wrote in her review:
The Good Sister by Aussie author Sally Hepworth was amazing!! I didn't expect what this book gradually built up to and boy! Did it blow me away. Told in both sister's voices, including the pages of Rose's diary, the tension ramped up until it felt like I was being grabbed by the throat.
Maureen Helen recommends it for book clubs at it's "a rollicking good story and so much material to think about and discuss".
The Good Sister was Ktbookbingo's first Sally Hepworth read. She enjoyed it and recommends it to those who enjoy domestic noir, but personally found it predictable and "a little slow off the mark".
The Price of Two Sparrows by Christy Collins
Piercingly clear-eyed and deeply insightful, The Price of Two Sparrows explores what we hold sacred and why. It delicately picks apart questions of community and prejudice, religion and nature in the modern world. This is a beautiful and thought-provoking debut from an award-winning Australian writer.
Jo @ Booklover Book Reviews called it, "a thought-provoking and perceptive examination of multicultural Australia".
Cass Moriarty found it, "A lovely, thoughtful book that asks readers to question their own personal views, and how they might be tested."
Reading for diversity
I hope you'll consider adding one or more of these books to your reading list. You can also check out some of our recent Diversity round ups or have a look through the reading lists on our Reading for diversity page.
Find more books by Australian women writers from diverse backgrounds, or featuring diverse themes, by typing "Diversity" into the keyword search on our Books reviewed page (you can sort the mega-list by genre or year of publication to narrow your search a little).
Reviewing for diversity
Keep the reviews coming! Remember to check the "Diversity" box when you link your review if the author is from a diverse background or your review touches on Indigenous issues, migrant heritage, LGBTQI/non-binary or disability experiences.
About me
I'm Rebecca Bowyer, a storyteller, novelist and Diversity Editor here at the Australian Women Writers Challenge. I live in Melbourne, Australia with my husband and two young sons. When not at my day job or wrangling kids, I can be found writing my next novel, or writing about books, reading and writing over at Story Addict.
I'm the author of two speculative fiction novels. Stealing Time (released just a few days ago!) and Maternal Instinct.